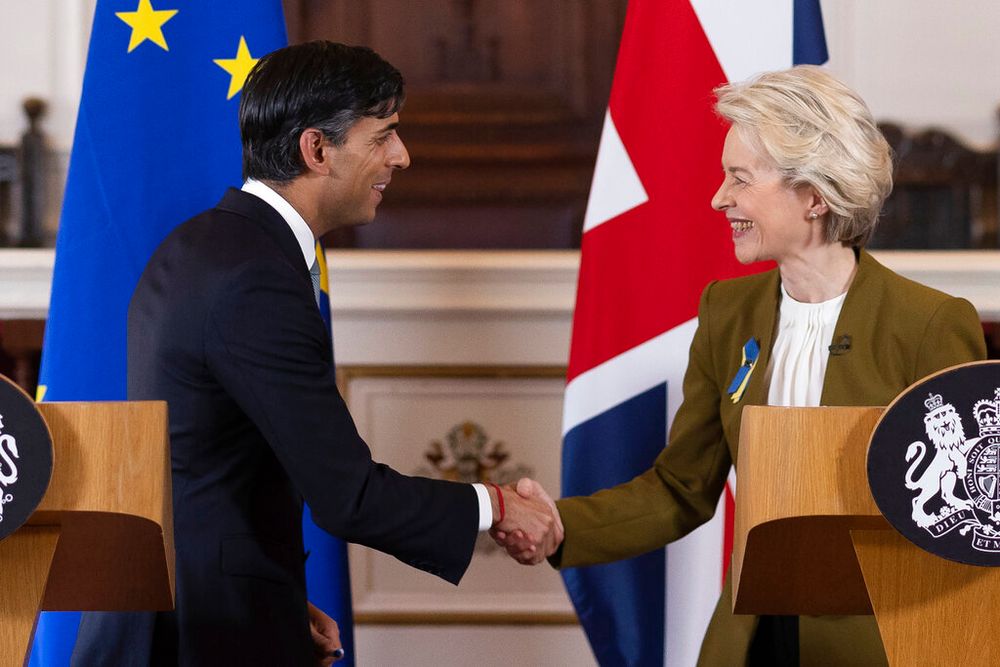 'I believe we have found ways to end the uncertainty… for the people of Northern Ireland,' says UK PM Sunak
Britain and the European Union have touted a "new chapter" in relations on Monday with a deal to overhaul trade rules in Northern Ireland that aims to ease tensions stoked by Brexit.
Standing alongside European Commission President Ursula von der Leyen at a news conference in Windsor, Sunak said the two sides agreed to remove "any sense of a border" between Britain and its province – a situation that had politicians on both sides frustrated.
The agreement follows more than a year of tense talks over the "Northern Ireland Protocol and marks a high-risk strategy for Sunak just four months after he took office. He is looking to improve relations with Brussels – and the United States – without angering the wing of his party most wedded to Brexit.
Agreed in 2020 as part of Britain's EU divorce, the original pact kept the province in the European single market for physical goods and subject to different customs rules than the rest of the United Kingdom, irking pro-UK unionists there and euro-skeptics in London.
The UK government threatened a unilateral overhaul of the Protocol unless the EU agreed to wholesale changes, souring diplomatic ties and risking a wider trade war.
"This is the beginning of a new chapter in our relationship," Sunak said. "I believe we have found ways to end the uncertainty… for the people of Northern Ireland," he added, touting several key issues the new deal – branded the "Windsor Framework" –would fix.
Von der Leyen heralded the "historic" agreement that would ensure a "stronger EU-UK relationship" to tackle shared challenges such as Russia's war in Ukraine and climate change.
"The new Windsor Framework is here to benefit people in Northern Ireland, and support all communities, celebrating peace on the island of Ireland," she said.