Ariel Oseran
i24NEWS Middle East correspondent | @ariel_oseran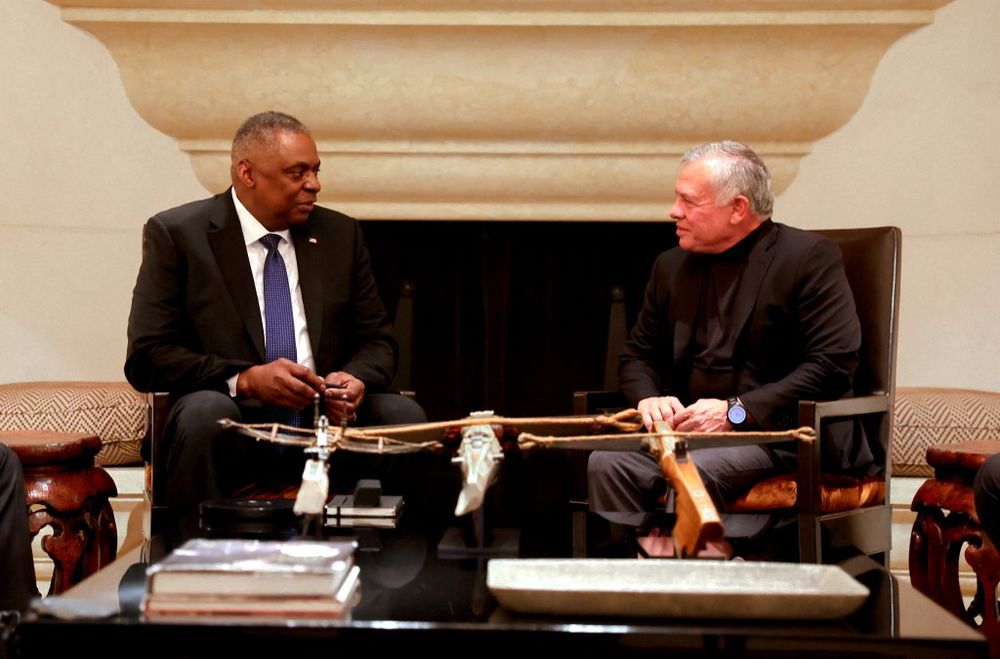 While U.S. officials push that the Iranian threat is focus of Austin's trip, Jordan says his meeting with King Abdullah focused entirely on Palestinian issue
U.S. Defense Secretary Lloyd Austin landed in Jordan on Sunday to start his Middle East tour, which will also take him to Egypt and Israel in a show of support for its regional allies against the growing Iranian threat as well as part of U.S. efforts to quell tensions and violence between Israelis and Palestinians.
Before his departure, Austin tweeted that he would likely meet with key leaders and "reaffirm the U.S. commitment to regional security and advancing the shared interests of our allies and partners."
The U.S. Defense Department said ahead of the visit that discussions would focus on the growing threat that Iran poses to regional stability, as well as on advancing multilateral security cooperation with integrated air and missile defenses. Discussions will focus on the "full constellation of Iran-associated threats," a senior defense official was quoted as saying on the Pentagon's official site.
"Those threats include Iran's arming, training, and funding of violent proxy groups, aggression at sea, cyber threats, its ballistic missile program, and drone attacks," the official added.
However, despite U.S. officials pushing the idea that Iran would be the top priority in such discussions, the Jordanian readout of the meeting between Austin and Jordan's King Abdullah II did not mention the Islamic Republic, but instead focused entirely on the Palestinian issue.
Amman said King Abdullah stressed the "need for calm and reducing escalation in the Palestinian territories and stopping unilateral measures that destabilize and undermine measures for reaching peace."
When considering the Iranian threat, U.S. officials would more likely visit places like the United Arab Emirates or Saudi Arabia – who are more key partners to Washington in countering Iran – rather than Jordan or Egypt, governments that hold more regional roles. When it comes to dealing with officials in Amman, Cairo, and even Jerusalem, the Palestinian issue is more likely that not at the top of the agenda.
In Israel, Austin is expected to raise his concerns about a surge in violence in the West Bank that has alarmed Jordan and Arab leaders, and discuss diplomatic efforts to reduce tensions ahead of both Muslim and Jewish religious holidays, according to U.S. officials. While in the Jewish state, Austin is expected to meet with Israeli Prime Minister Benjamin Netanyahu, Defense Minister Yoav Gallant, and President Isaac Herzog.
Meanwhile, Israel's Strategic Affairs Minister Ron Dermer and National Security Council chief Tzachi Hanegbi are set to travel to Washington this week to discuss, among other things, progress made by Iran on their nuclear program.