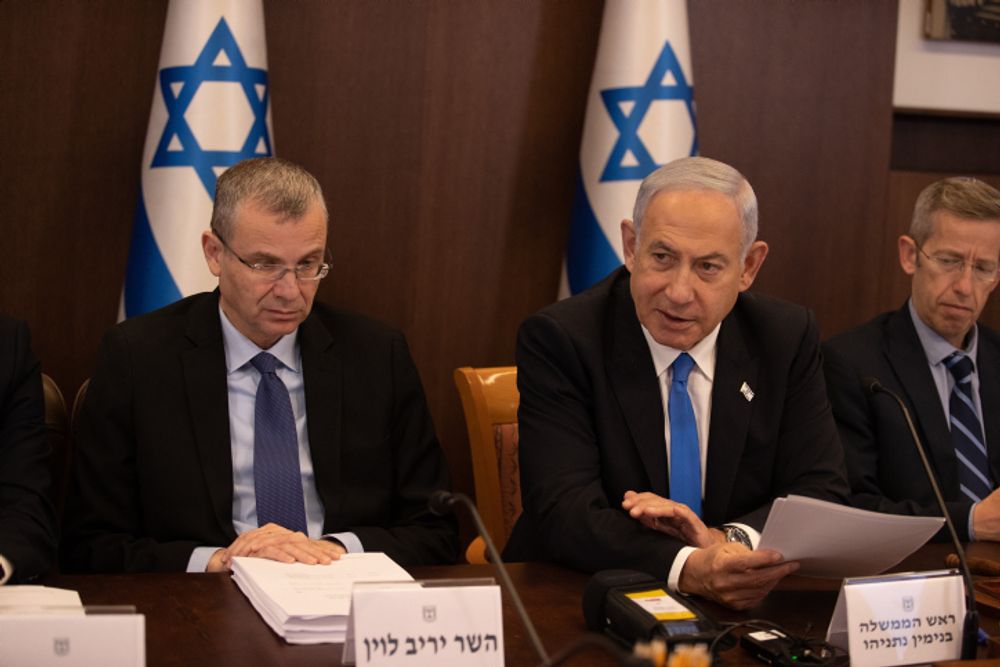 Former parliament speaker Yuli Edelstein says other Likud heavyweights support him in wanting to pause the reform
Israel's Prime Minister Benjamin Netanyahu opened Sunday's weekly government meeting by castigating the hundreds of thousands-strong protests against the judicial reform his coalition seeking, while other senior members of the Israeli premier's Likud party signaled they wished to calm the waters and pause the judicial overhaul. 
"During the Gaza disengagement, blocking major routes was considered a serious offense by the attorney general who back then said it should warrant 20 years behind bars," Netanyahu fumed. 
"While some forms of protest are legitimate, we see that many are taking the law into their own hands and besieging my wife in a Tel Aviv hair salon. They wish to cause the government to collapse and bring about a constitutional crisis. I call upon the opposition to join me in trying to take the tensions down a notch."
Meanwhile, former parliamentary speaker and Likud heavyweight Yuli Edelstein called to shelf the controversial overhaul in order to reach a better understanding with the opposition and calm the tensions. 
"We have the ability to pause the legislative process for a limited period," Edelstein said on Israeli television, adding there were other senior Likud figures who shared this position. "When you agree to come and talk like adults and not like little kids in a kindergarten, then it's definitely possible to arrive at a joint draft."  
On Sunday, Israel's Justice Minister Yariv Levin, Finance Minister Bezalel Smotrich, and Constitution Committee Chairman Simcha Rothman issued a joint statement to opposition leaders proposing to meet for talks later this week. They offered that the meeting be brokered by Israel's President Isaac Herzog, who has emerged as the voice of moderation during the ongoing political crisis. 
Opposition lawmaker and former defense minister Benny Gantz, however, said the offer contained nothing new and is not made in good faith.