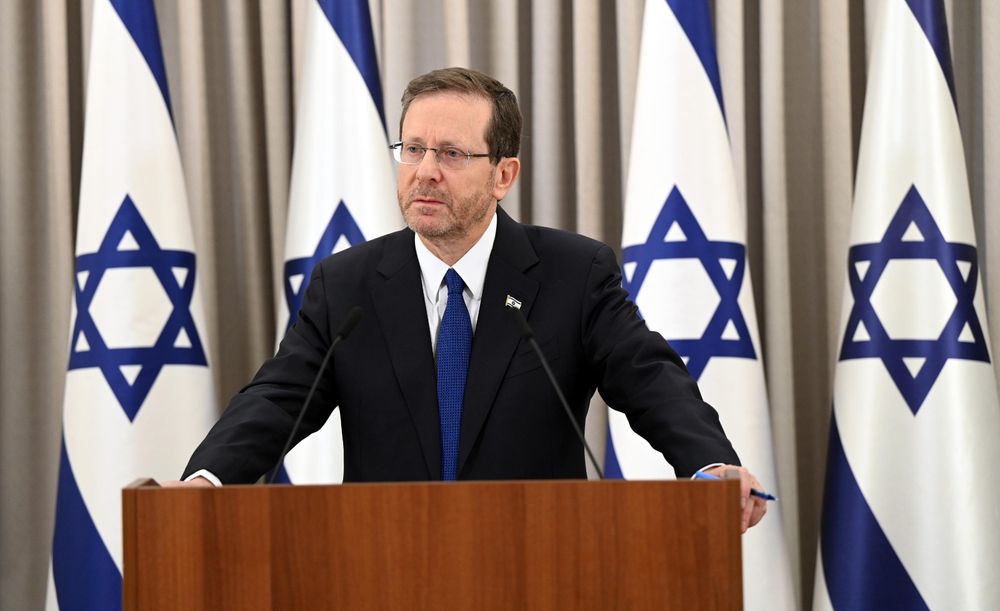 'I am anxious for our common fate, anxious for our country, whose very establishment was a visible miracle, and whose success is the fruit of all our labor'
Israel's President Isaac Herzog spoke on Wednesday during a naval ceremony about the "internal, deep, and serious crisis" that the Israelis are facing, hours after violent protests broke out over the proposed judicial overhaul.
"The State of Israel, Israeli society, all of us, are in a difficult time of an internal, deep, and serious crisis that threatens us all," Herzog said, addressing those present at the graduation ceremony of Israeli naval officers.
"It threatens Israel's internal resilience and solidarity, and it is very dangerous. I turn to the citizens of Israel on this difficult and painful day: I hear your voice, my brothers and sisters, the voices of patriotic Israeli citizens," he added. "I see the protests, the anxiety, and the fear that comes from the depths of your hearts – a fear that I also expressed regarding the legislation as it is being presented now. I feel very well the depth of pain and the depth of concern for the fate of the country."
Herzog's remarks referred to the protests that broke out earlier in the day against the government's proposed judicial reforms, which would limit the Supreme Court ruling on Basic Laws while also changing the composition of the committee that selects judges.
Those who oppose the legislation took to the streets Wednesday to kick off a "day of disruption," blocking a major traffic route leading from Tel Aviv to Jerusalem. In Tel Aviv, the protest turned violent with demonstrations moving on police, who responded with crowd control measures that included stun grenades, horses, water cannons, and tear gas. 
"We may degenerate into a terrible abyss, and on the other hand, we can reach a solution with a broad agreement," Herzog continued.  
"I will not let our state reach the point of no return, I will not let this historical disaster happen. I will never give up any part of Israeli society – nor the chance to reach a broad consensus. I know many of you yearn for this; and I am anxious for our common fate, anxious for our country, whose very establishment was a visible miracle, and whose success is the fruit of all our labor."