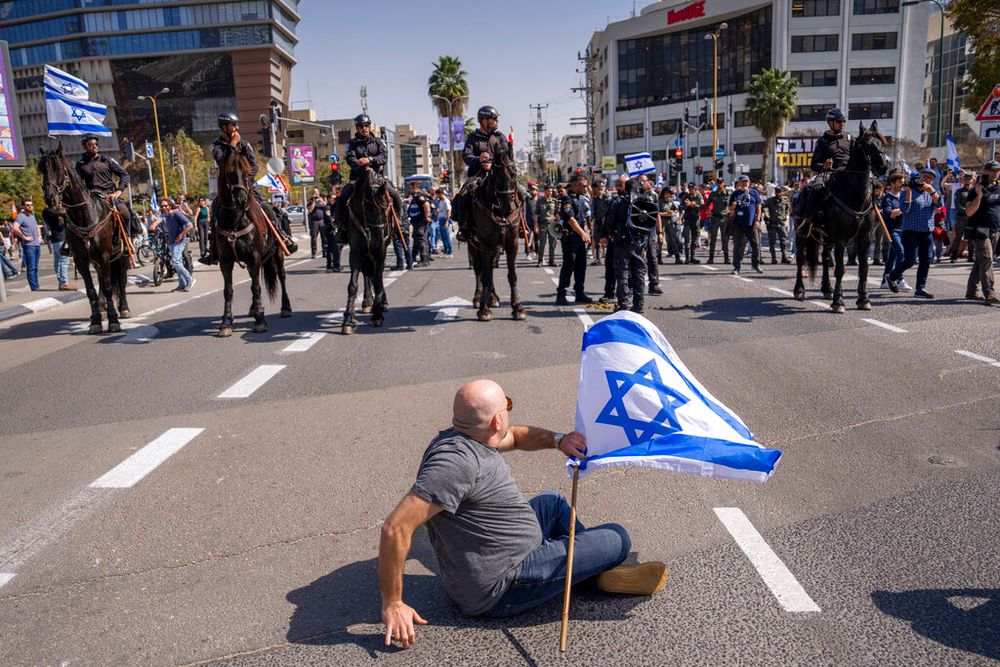 'Netanyahu, the only anarchy here is created by the government, which you have lost control over'
Israel's Prime Minister Benjamin Netanyahu and Opposition Leader Yair Lapid traded accusations of sowing "anarchy" as protests in Tel Aviv against the government's proposed judicial reforms turned violent on Wednesday.
Civil disconnect was seemingly at its peak as Israelis who oppose the judicial reforms took to the streets to kick off a "day of disruption," blocking a major traffic route leading from Tel Aviv to Jerusalem.
In Tel Aviv – the scene of the most significant gatherings against the overhaul in recent weeks – the protest turned violent with demonstrations moving on police, who responded with crowd control measures that included stun grenades, horses, water cannons, and tear gas. According to authorities, 11 protesters were lightly injured and 37 were detained. 
"It is forbidden to hit police and it is forbidden to disrupt life in the country," Netanyahu told reporters. He continued to accuse Lapid of refusing to discuss the judicial overhaul and instead trying to promote "anarchy." 
The legislation in question being pushed by the government would limit the Supreme Court ruling on Basic Laws, which function as Israel's constitution, while also changing the composition of the committee that selects judges. Israel's parliament passed the first reading of the reform last month.
"[Lapid] wants to bring about a crisis of governance, I'd say, a constitutional crisis, and thus, to get to new elections. It's time to end the anarchy," Netanyahu charged.
In response, Lapid tweeted: "Netanyahu, the only anarchy here is created by the government, which you have lost control over."
"Bibi, the one who gave Ben-Gvir explosives to play with, knew it would end in an explosion," he added, calling Netanyahu by his nickname and referring to Israel's firebrand National Security Minister Itamar Ben Gvir. The Jewish Power party leader has been accused of encouraging citizens to "take the law into their own hands" after West Bank settlers rioted in the Palestinian city of Huwara earlier this week, leaving one dead and property damaged, in response to a terror attack that killed two Israelis.