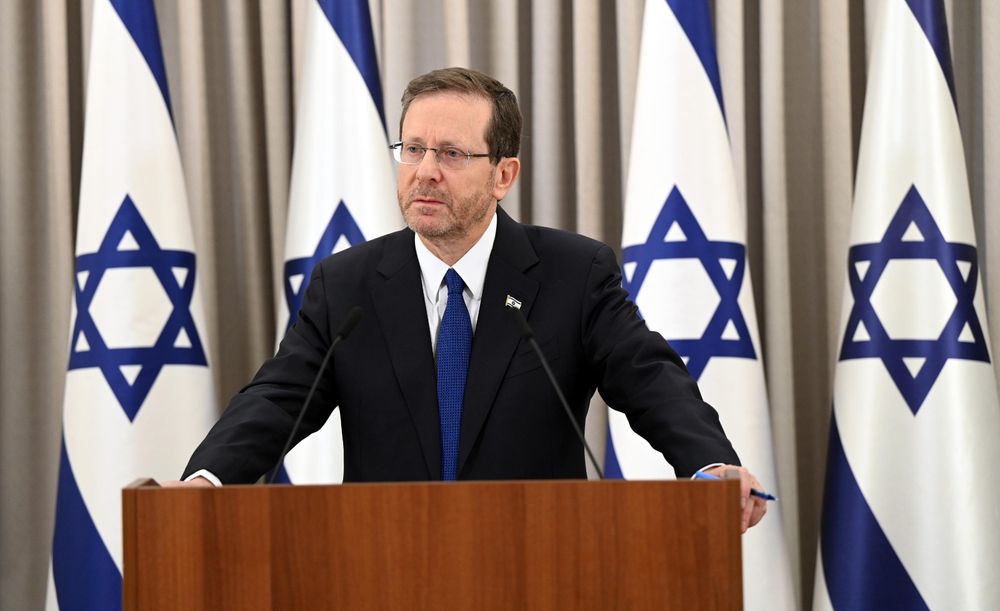 In a pledge of support for the president, the Israeli Defense and Security Forum calls to tone down the rhetoric and cherish Israel's national symbols
The Israeli military is a key symbol of national cohesion and must be kept above the partisan fray, senior veterans of Israel's military and security sectors said in a in a letter of support to President Isaac Herzog.
The Israeli Defense and Security Forum is a movement comprising over 16,000 retired and reserve officers, commanders and soldiers from all branches of the Israel Defense Forces (IDF) and the Israeli security community. On Sunday they published a statement registering their concern with the tensions flaring in Israel over the judicial overhaul proposed by the government of Prime Minister Benjamin Netanyahu. 
The statement states that Herzog's speech calling to cool down the tempers and tone down the rhetoric in order to reach a compromise on the judicial reform represents "one of the most important, perhaps even the most important speech, ever delivered by an Israeli President." 
Stressing that the IDSF is not a political body, the statement condemned the flaring up of the rhetoric over the proposed judicial reform, stating that "the prerequisite for the dialogue… [is] an immediate and explicit call to cease the dangerous and violent rhetoric which is jeopardizing the democratic rule of law in Israel. Calls of civil revolt, threats to harm the economy, veiled threats to harm the Prime Minister or his ministers or calls for civil war must not be tolerated." 
"We strengthen your call to immediately cease the violent and divisive rhetoric, regardless of the fate of the judicial reform. The discussion on your proposal should be held in the Knesset. In the house of the people's elected representatives. And the results of this process must be respected," the statement read. 
Above all, "any Knesset legislation – can be overturned. National unity and our national security – cannot. The IDF is the symbol of our national cohesion and must be kept out of the political discourse… Therefore, we join you in your call: stop violating our national cohesion. Stop political boycotts. Stop the political abuse of the IDF."