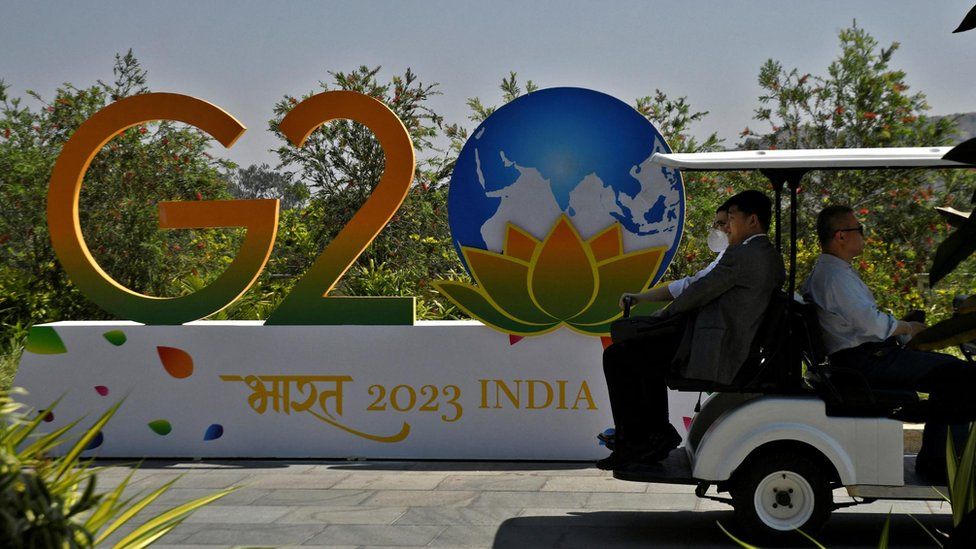 Finance ministers of the world's largest economies have failed to agree on a closing statement following talks in India due to differences over the war in Ukraine.
Russia and China refused to condemn the invasion at the G20 talks.
Moscow accused Western countries of destabilising the meeting and being "anti-Russian".
A year after Russia's invasion, the conflict continues to have knock-on effects on the global economy.
Previous meetings of G20 members have also failed to produce a joint statement since Russia, a member of the grouping, invaded Ukraine last February, a move that has been met with widespread condemnation.
India, which hosted the talks in the southern city of Bengaluru, issued a "chair's summary" from the meeting, noting there were "different assessments of the situation and sanctions" at the two-day meeting.
A footnote said two paragraphs summarising the war – which it said were adapted from the G20 Bali Leaders' Declaration in November – were "agreed to by all member countries except Russia and China".
Russia's foreign ministry said it regretted the fact that "the activities of the G20 continue to be destabilised by the Western collective and used in an anti-Russian… way".
It accused the United States, European Union and G7 nations of "clear blackmail", urging them to "acknowledge the objective realities of a multipolar world".
Ajay Seth, a senior Indian official, said in a press conference that Russian and Chinese representatives did not agree to the wording on Ukraine because "their mandate is to deal with economic and financial issues".
"On the other hand, all the other 18 countries felt that the war has got implications for the global economy" and needed to be mentioned, he added.
German Finance Minister Christian Lindner, said: "This is a war. And this war has a cause, has one cause, and that is Russia and Vladimir Putin. That must be expressed clearly at this G20 finance meeting."
China also this week published a 12-point "peace plan" on the conflict, which included "respecting the sovereignty of all countries" and "stopping unilateral sanctions".
Related Topics