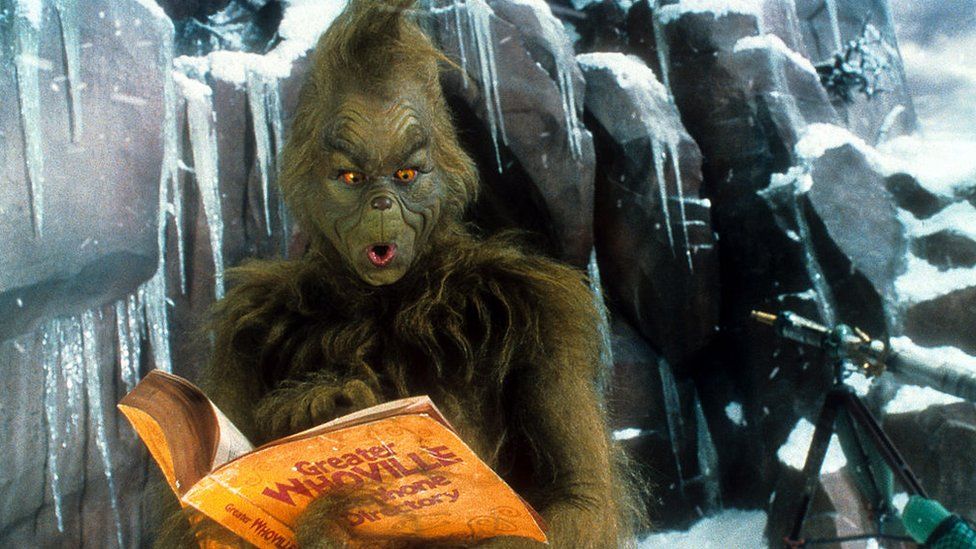 By Sam Cabral
BBC News, Washington
What happened to the Grinch after he tried to steal Christmas? Fans of the Dr Seuss classic are about to find out.
The sequel to the late author's 1957 book, How the Grinch Stole Christmas!, hits shelves this September.
How the Grinch Lost Christmas! is set one year after the original story and is the first expansion of the Grinch narrative.
It's written and illustrated by two people with previous experience in the Dr Seuss universe.
Dr Seuss, whose real name was Theodor Seuss Geisel, died in 1991 but the book remains one of his most popular works.
It has sold millions of copies worldwide, including nearly 10 million in North America alone, and has been adapted for the screen three times.
In the original book, the Grinch tries to ruin Christmas for the town of Whoville. Instead, he learns a lesson about the true spirit of the holiday that make his heart grow three sizes.
The decision to extend the story was carefully considered, says Susan Brandt, the president and CEO of Dr. Seuss Enterprises, which manages the author's legacy.
In 2021, the organisation stirred controversy when it ceased the publication of six books by the Massachusetts-born cartoonist because of racially sensitive imagery.
The new book is not based on anything from the Seuss archives but will see the Grinch "eager to prove that his heart has grown to love the holiday", according to publishers at Random House Children's Books.
It is written by Alastair Heim, who previously wrote two Seuss-themed books. The pictures are by Aristides Ruiz, who illustrated Learning Library versions of another enduring Seuss work, The Cat in the Hat, for more than two decades.
Mr Heim "couldn't fully believe that I was actually getting to play in the amazing creative sandbox Dr. Seuss created all those decades ago", he told the Associated Press.
Mr Ruiz said he had "jumped at the chance only to find that it was difficult and daunting to approach adding to or expanding such an esteemed and treasured part of the American Christmas canon".
Scheduled for release on 5 September, the book is currently available for pre-order.
Related Topics