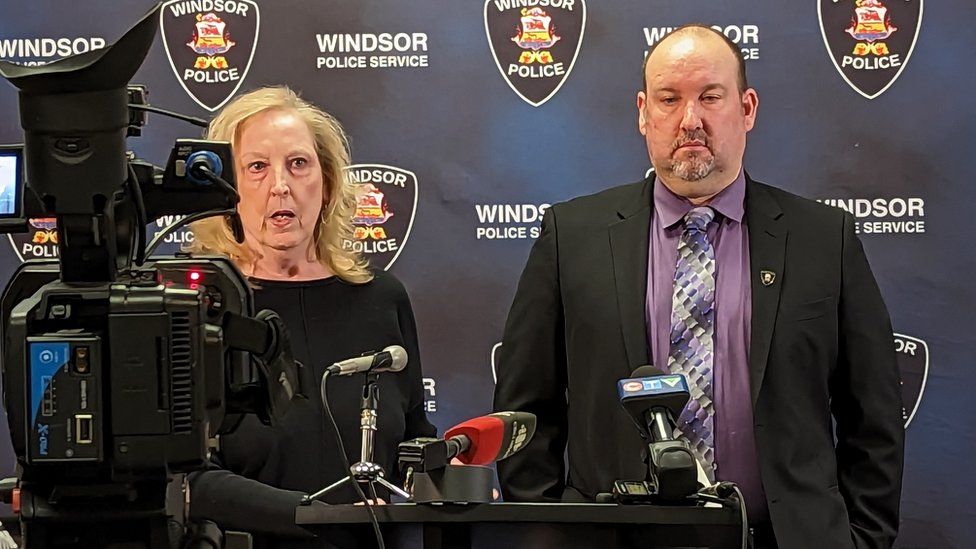 Tired of receiving scam calls, a woman in Ontario, Canada, was fed up when she got a call from fraudsters pretending to be her grandson in need of money.
Instead of simply hanging up as usual, Bonnie Bednarik went along with the ruse, telling them she would give them the C$9,300 ($6,800; £5,600).
When the alleged scammers came to collect the money, they were shocked to find police waiting for them.
Police say they had defrauded at least two other victims.
Ms Bednarik, 74, was suspicious when the scammers called her the morning of 1 March saying they needed the cash for bail money.
When she asked who was speaking, the suspect acted upset, saying "come on, it's your grandson".
It was the third time a scammer had contacted her, and it made her mad, Ms Bednarik said at a press conference in her home city of Windsor, Ontario.
Thinking on her feet, Ms Bednarik said a name that was not, in fact, her grandson, hoping to catch the scammer in his lie.
Posing as her grandson, the fraudster told Ms Bednarik an elaborate story about how he got into a car accident with a fictitious friend and pills were found in the glove compartment.
To really sell it, the scammer even "had a few tears", Ms Bednarik said. He told her he loved her.
To buy time, she told the man she would call her bank.
Instead she called the police, who were able to coordinate with Ms Bednarik and set up surveillance near her home.
The fraud unit arrested the suspects – Evan Gayowsky, 19, and Noah Kljajic, 22 – when they went to her house to collect the money.
Police collected a "fairly large quantity" of cash that the two had allegedly scammed off other victims.
They have located one victim, from Amherstburg, and are looking for a second victim.
Ms Bednarik urged seniors to contact the police if they get a suspicious call.
"First of all, you never give them your grandson or granddaughter's name. You ask them what the name is. You call the police. You call your family," she said.
The Canadian Anti-Fraud Centre (CAFC) said that in 2022, it received fraud and cybercrime reports totalling C$530m in victim losses, up 40% from the year before. That included nearly C$9.2 million lost to emergency scams like Ms Bednarik's, in which a scammer demands money right away. Emergency scams in 2022 were almost four times what they were in 2021, the CAFC says.
According to the Federal Bureau of Investigation, there were more than 92,000 senior citizens who were victims of fraud in the US in 2021, resulting in $1.7 billion (£1.4b) in losses.
Related Topics